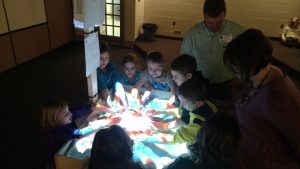 What is an Augmented Reality Sandbox?
This tool combines 3D visualization applications with a hands-on sandbox exhibit to teach earth science concepts. The AR sandbox allows users to create topographic models by shaping real sand, which is then augmented in real time by an elevation color map, topographic contour lines, and simulated water. The system teaches geographic, geologic, and hydrologic concepts such as how to read a topography map, the meaning of contour lines, watersheds, catchment areas, levees, etc.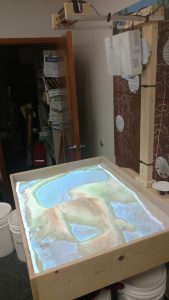 How does it work?
The AR Sandbox uses a computer projector and a motion-sensing input device (an Xbox 360 Kinect camera), which are mounted above the sand. The camera is calibrated to detect the 3D landscape of the sand and the height of the "raincloud" to start the rain. Open source software that was developed by UC Davis in California instantly simulates and projects the topographic and hydrologic model as users create landscapes and move water in the hands-on sandbox.
Acknowledgements
The Elkhart County Soil and Water Conservation District gives special thanks to Chuck Harvout (Elkhart County Indiana Master Naturalist Chairman), Mark Watts (Earth, Atmospheric, and Planetary Science Technology Facilitator at Penn High School), and Kirk BonDurant (BonDurant Welding) for their support in the creation of this teaching tool.
The Augmented Reality Sandbox was developed by the UC Davis W.M. Keck Center for Active Visualization in the Earth Sciences (KeckCAVES, http://www.keckcaves.org), supported by the National Science Foundation under Grant No. DRL 1114663.
For more information, please visit https://arsandbox.ucdavis.edu.